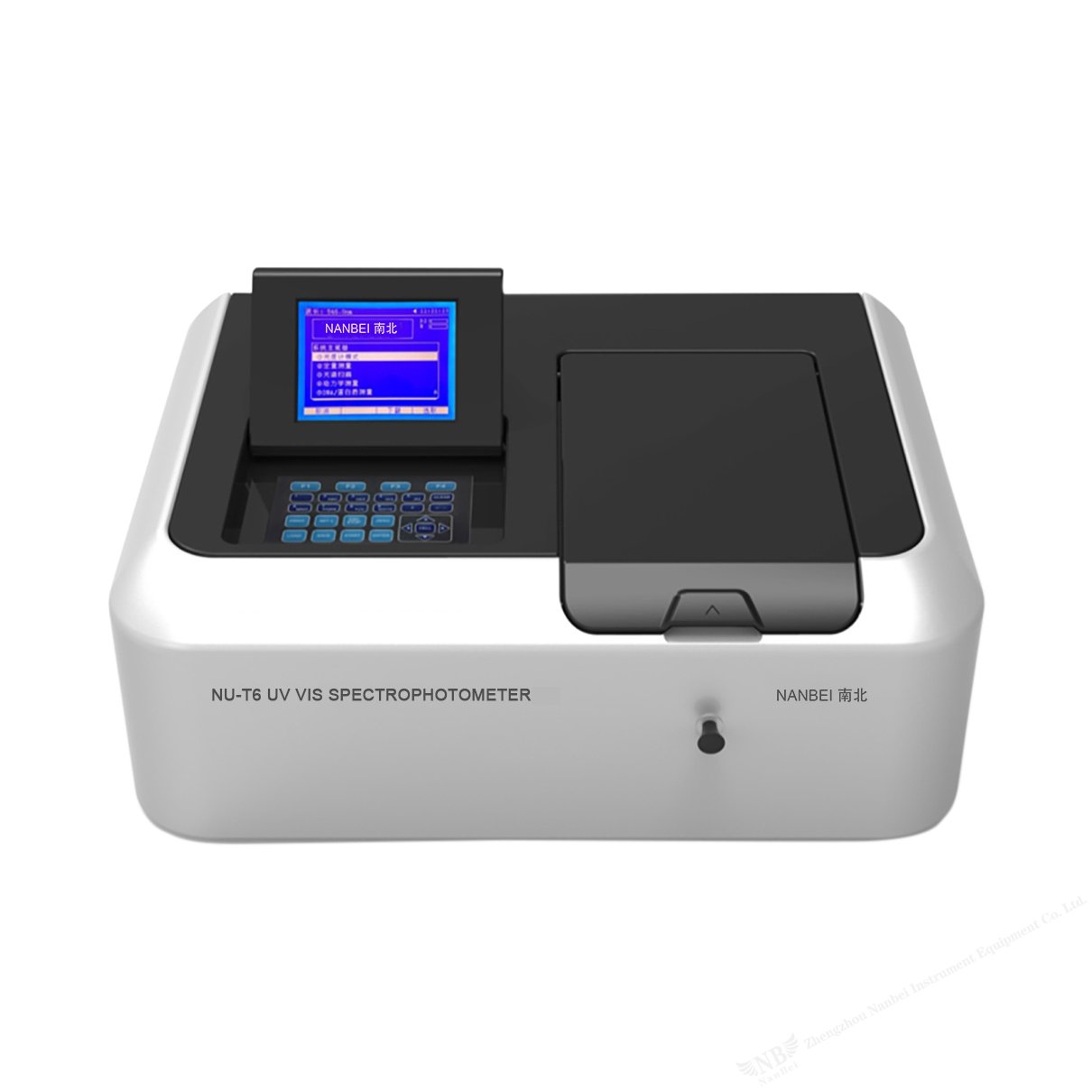 NU-T6/NU-T6A UV/Vis Spectrophotometer
Brand:NANBEI
Model:NU-T6/NU-T6A UV/Vis Spectrophotometer
Application:Teaching research,environmental detection,optical material,metallic material,food safety,daily chemical products,agriculture,drug
NT6 Series UV/VIS SPECTROPHOTOMETER


Characteristics of spectrophotometer:
● High Accuracy: Using grating micrometer level precision screw drive to ensure the accuracy of wavelength <±0.5nm;Transmittance of accuracy reaches ±0.3%.
● Convenience for use: 5.7 inch graphic LCD display. Spectrum curve be clear at a glance and easy to operate. There is quantitative analysis、qualitative analysis、 kinetics test、 DNA/RNA、 multi- wavelength analysis in special purpose testing program.
● Service life durable: Imported Halogen lamp ensures the light source for up two years of life, receiver life for 20 years.
●Wide application fields: Optional Equipped with Peltier/sipper unit, with Micro cell holder, with (5°incident angle) Reflectance measurement attachment etc. expands the application areas of more.

Function of spectrophotometer:
●Photometric measurement: Convenience to measure samples in the specified wavelength absorbance and transmittance. Multi-wavelength detector is maximum simultaneous determination of 10 wavelengths.
●Quantitative measurement: Establish automatically standard curve, first- order \ first after we order the third order curve fitting. Optional method: Single wavelength calibration、Double wavelength calibration、Three point method,
●Qualitative measurement: Including scaling, smoothing, filtering, detecting peak-valley etc.
●Kinetics measurement: Calculate kinetics of enzyme reaction rate. There are scaling, smoothing, filtering, detecting peak-valley and finding the derivative in a variety of graph processing methods for your choice.
●DNA/RNA,Test function of protein calculates automatically the sample ratio and concentration.

Model

NU-T6

NU-T6A

Optical System

Single, Littrow,Grating 1200 line/mm

Wavelength Range

190~1100nm

Spectral Bandwidth

4nm

2nm

Wavelength Accuracy

±0.5nm

Wavelength Repeatability

±0.2nm

Photometric Accuracy

±0.3%T;±0.002Abs(0~0.5Abs);±0.004(0.5-1.0Abs);

Photometric Repeatability

±0.1%T;±0.001Abs(0~0.5Abs);±0.002(0.5-1.0Abs);

Stray Light

≤0.05%T, @220nm/360nm

Noise Level

±0.002Abs

Stability

±0.002A/h@500nm

Baseline Flatness

±0.002Abs

Baseline Dark Noise

0.1%T

Photometric Range

0~200℅T,-4~4A,0~9999C(0-9999F)

Light Source

Tungsten&Deuterium Lamp(Pre-aligned)

Scan Speed

Hi,MED.,LOW.,MAX.3600nm/min

Display

320×240 Dots Array Graphic LCD

System Language

English

Output

USB1.1 Connecting to computer&Parallel port for printer

Power Requirement

AC90~250V/ 50~60Hz

Dimensions(L×W×H)

550×400×210

Weight

17kg